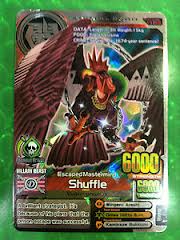 Name : Shuffle
Flag : Villain Beast 
Nickname : Escaped Mastermind
Scientific Name ; Vultur Gryphus
Length : 1.3 metre
Weight : 15 kg
Food : French cuisine
Type : Heavy
Ability : Summon Wraith
Class : Silver Rare
Strength : 6000
Health : 6000
Crime : Spying, etc. ( 674 year sentence )
Attacks :
G : Wingeru Arashi
T : Ooiwa Gottu Burn ( Best Attack )
P : Kamikaze Bukkomi
Description :
A brilliant strategist. It's because of his plans that the prison escape was successful.
Trivia :
He is one of the 3 andean condors, the other two was Andean Condor and Andean Condor, the 2nd.
Ad blocker interference detected!
Wikia is a free-to-use site that makes money from advertising. We have a modified experience for viewers using ad blockers

Wikia is not accessible if you've made further modifications. Remove the custom ad blocker rule(s) and the page will load as expected.