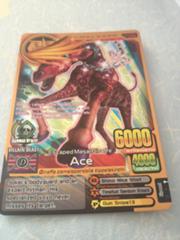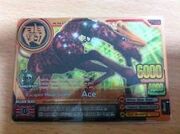 Name : Ace
Flag : Villain Beast
Nickname : Escaped Masai Giraffe
Scientific Name : Giraffa Camelopardalis Tippelskirchi
Length : 8.5 metre
Weight : 900 kg
Food : Noodles and eclairs ( as a set )
Type : Speed
Ability : Summon Wraith
Class : Bronze Rare, Super Rare
Strength : 6000
Health : 4000
Crime : Illegal firearm possesion, etc. ( 564 year sentence )
Attacks :
G : Shino Nice Shot
T : Timaturi Senbon Knock
P : Gun Snipe13 ( Best Attack )
Description :
Joker's bodyguard and an expert hitman. His specialized yoyo never misses its target.
Trivia :
His Best Attack is similar to Reticulated Giraffe's Best Attack.
Ad blocker interference detected!
Wikia is a free-to-use site that makes money from advertising. We have a modified experience for viewers using ad blockers

Wikia is not accessible if you've made further modifications. Remove the custom ad blocker rule(s) and the page will load as expected.